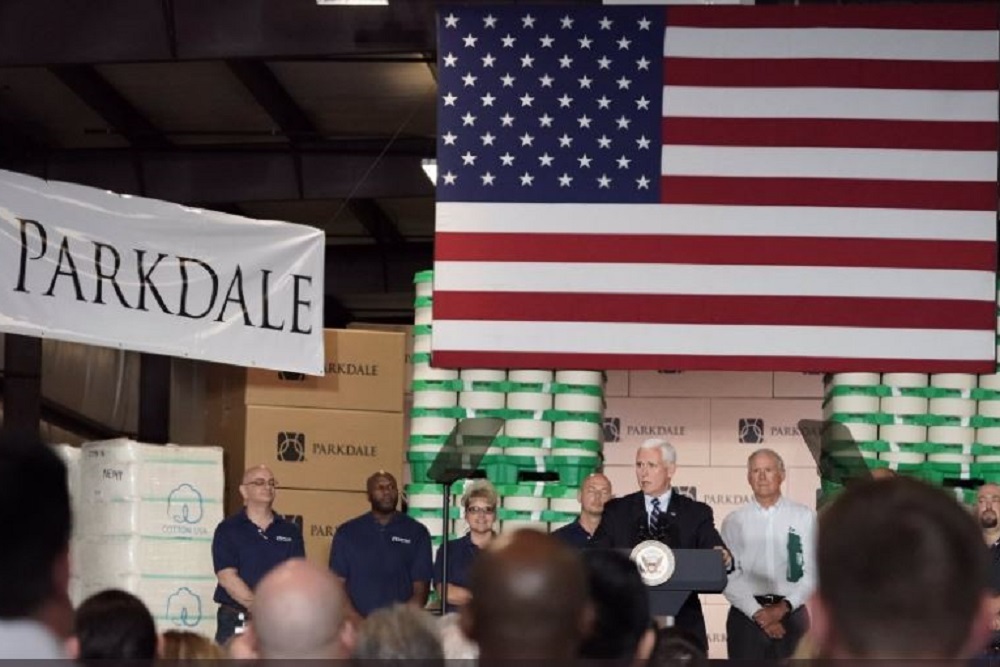 Vice President Mike Pence speaking at Parkdale Mills in Monroe earlier this week Ian Prior
Democrats in Congress should focus more on the Trump administration's proposed U.S.-Mexico-Canada trade deal and less on "partisan investigations" that "won't create a single American job," Vice President Mike Pence said during a promotional stop in Union County this week.
"Enough is enough and the American people deserve better," Pence said during his remarks at Parkdale Mills in Monroe on Wednesday afternoon. "It's time for Congress to end these partisan games and work with us for the good of every American."
Pence issued that appeal during a several-stop visit in North Carolina, with the stop at the textile mill falling between two private events.
His stop at Parkdale Mills also came less than a week after the Trump administration announced the lifting of import tariffs on Canadian and Mexican steel and aluminum. Mexico and Canada removed their retaliatory tariffs on Sunday.

Vice President Mike Pence with a Parkdale Mills employee twitter.com/VP
Pence recalled the Trump administration's would-be predecessor to USMCA, the 1994 North American Free Trade Agreement, and the negative impact it had on the nation's economy.
"I don't have to tell you about the impact that it's had on our communities," Pence told the cheering crowd. "Over in the Hoosier State, where I grew up, where I served as governor, we saw almost entire communities shuttered, as factories closed and moved south of the border. But those days are over."
Adoption of the USMCA would impact more than 2 million U.S. manufacturing jobs that depend on exports to Canada and Mexico, Pence said.
"And we believe it's absolutely essential to get it passed by the Congress because it will finally give American workers and farmers the level-playing field that they need to compete and win like never before," he said. "The USMCA will help American companies protect innovative technologies that give us an edge in the global marketplace. It's going to end programs in Canada that allow low-priced products to undercut American dairy, and it's going to ensure that agricultural product grading is fair and transparent."
Pence specifically called out North Carolina U.S. Rep. Richard Hudson (R-8th District) and U.S. Rep. Mark Walker (R-6th District) for their "strong support" of the USMCA. Pence also encouraged state residents to push their Congressional representatives "to step forward and do their job" in passing the USMCA.
"Your voice will make a difference," Pence said. "So let your voice be heard. I know if all of us do all that we can, we're going to get this done. We're going to get this Congress to step up and do their job. We're going to pass the USMCA, and we're going to get this economy growing even more than ever before."